April 19, 2022
8946 view(s)
One of the coolest names ever given to a cartridge, able to hit targets effectively at over 1,200 yards, all with the ease and comfort of an AR-15 platform! .224 Valkyrie is an excellent cartridge with some fascinating history and abilities.
History
Like many cartridges, .224 Valkyrie started as an attempt to make the AR-15 a more versatile and longer range platform. This time it was Federal's turn to try their hand at it.
Federal wanted to make a cartridge that could compete with .22 Nosler but still feed on an AR-15 platform rifle.
The .224 Valk was the result of that development.
Mostly due to the huge marketing push by Federal when it was released, a lot of people gave it a shot, and for the most part, we liked what we saw.
.224 Valkyrie came out in 2017, early-2018 is when I was first really getting into long range shooting, and I dove in hard on the .224 Valk hype train.
But… there were issues.
Barrel Twists & Turns
I lived through these events and saw many of these issues myself, I've also researched old articles to refresh my memory, but even with all of that -- I can't find a really definitive answer for why and how this happened.
Bottomline -- when 224 Valkyrie was released, Federal told people that a barrel with a 1:7 twist rate would be best.
But a lot of people had issues with stabilization resulting in bad accuracy. Somehow, the idea that a 1:6.5 barrel would be better took root and became popular; this solved the issue for some people.
Then Federal came out with their 90gr options for .224 Valkyrie, and people jumped on it but again had issues with twist rate -- this time, the 1:6.5 barrels weren't cutting it.
Federal recommended that people use 1:7 twists but boost the muzzle velocity of the new 90gr bullets.
And again -- this solved the issue for most of us.
That said… .224 Valkyrie can be a weird cartridge to handload, and nailing down a great load can take some time. For me, factory ammo works really well so I never went down the rabbit hole of reloading for it.
But honestly, most of the "long range" calibers for the AR-15 have some weirdness to them. 6.5 Grendel is well known for this too.
Practical Uses
Hunting
.224 Valkyrie isn't my choice for hunting; the bullets are a little too light for my taste. But for smaller game or closer ranges, there is no reason to ignore .224 Valk.
Federal has a wide range of hunting loads for the .224 Valkyrie from 60gr to 80.5gr that all work really well within their engagement envelopes.
If you're going to hunt with .224 Valkyrie, I would use it mostly as a varmint and predator round. It's fine for hogs too, but I rather have something hit harder on an angry hog.
Long Range Precision
This is really where .224 Valkyrie shines. For PRS gas rifles or just plinking at a really long distance, .224 Valk is a real contender and a solid choice for many of us.
Supersonic well past 1,000 yards with manageable windage, .224 Valkyrie also has very low recoil and is a real joy to shoot -- especially for younger shooters or those with smaller frames.
I took my old .224 Valk to 1,100 yards, and it was always a joy and a challenge.
Ballistics
Federal has several heavy bullet options for .224 Valkyrie, they even have some extra heavy options too. Generally speaking, heavy is better for long range shooting as long as you can keep the velocity up.
While Federal's 90gr Sierra Match King is a great option, I actually prefer Hornady's 88gr ELDM.
Ballistically there isn't much difference between the two, but for me, Hornady tends to feed better.
This chart shows you how .224 Valk stacks up compared to .223 Remington, 6.5 Grendel, and 6mm ARC.
As you can see, 6mm ARC is really the only one that comes fairly close -- however, 6.5 Grendel is sending a bullet that is much heavier than the Valkyrie bullets.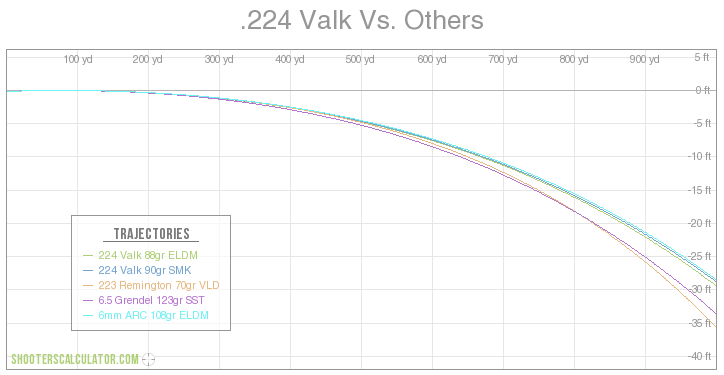 Charts are cool, but you need more info. Here it is broken down using a 10mph crosswind. "Max hunting range" is given as maintaining both 1,000 ft.lbf energy and 2,000 FPS.
I'm looking at bullets really designed for long range precision, so double-check your numbers with your hunting ammo before going out and slinging lead at critters.
.224 Valk 90gr Federal SMK has a muzzle velocity of 2,700 FPS, is supersonic till almost 1,300 yards, and has 120 inches of windage at 1,000 yards. Max hunting range is 300 yards.
.224 Valk 88gr ELDM also has an MV of 2,700 FPS and is supersonic till almost 1,300 yards, but has 126 inches of windage at 1,000 yards. Max hunting range is 300 yards.
.223 Rem 70gr VLD is the worst of this test, but that is to be expected. With an MV of 2,850 FPS, it drops subsonic at about 950 yards and has 132 inches of windage at 1,000 yards. Max hunting range is 100 yards.
6.5mm Grendel 123gr SST starts with an MV of 2,600 FPS, stays supersonic until almost 1,200 yards, and has 97 inches of windage at 1,000 yards. Max hunting range is 400 yards.
6mm ARC 108gr ELDM is my personal favorite with 2,750 FPS MV, supersonic until almost 1,300 yards, and has 83 inches of windage at 1,000 yards. Max hunting range is 400 yards.
Will .224 Valkyrie Survive?
With the rise of cartridges like 6.5 Grendel and 6mm ARC, it's a fair question to ask if .224 Valkyrie will even stand the test of time.
Personally, I think it will -- at least for now. Maybe in 20 years, I'll be proven wrong, but I don't think you'll run into problems getting ammo or components for this cartridge anytime remotely soon.
Why You Should Get .224 Valkyrie
6mm ARC and 6.5 Grendel hit harder and fly further, it's true. And on paper, they might be "better" in a lot of ways.
But .224 Valkyrie has something that Grendel and ARC lack (besides having the best name) -- even during ammo shortages, you can FIND and afford .224 Valk.
6mm ARC is really hard to get your hands on right now, and even when you do, the options are super limited. I haven't been able to get ARC ELDM in close to a year.
6.5 Grendel has some great options since it is made by more than one manufacturer, but since more people are shooting it, there is a lot more demand, and prices are higher.
You can get .224 Valkyrie 90gr SMK for almost a dollar per round less than match grade 6.5 Grendel (at the time of writing this, at least).
Even when my LGS had huge ammo runs on it during the pandemic, they almost always had some .224 Valkyrie on the shelf even long after they ran out of 6.5 Grendel.
When it comes to sending rounds downrange a long distance, being able to feed your rifle is the most critical.
Build Or Buy
.224 Valkyrie, like many other cartridges, is very easy to set up in an AR-15.
224 Valkyrie uses 6.8 SPC bolts and magazines. Sometimes they are marked as being for both .224 Valk and 6.8 SPC, and some just say one or the other. Either way -- both work for both. 6.5 Grendel magazines will work as well.
A new 224 Valkyrie barrel, a new bolt, and new magazines -- you're good to go with your new .224 Valk build.
Or the easy way of doing things is a new 224 Valkyrie upper and some new magazines.
I've used 5.56 NATO mags in a real pinch at the range, but feeding issues were plentiful and not something I recommend. But if you forget the Valkyrie mags at home that day, it can kind of work.
Something to keep in mind is that 224 Valkyrie really likes longer barrels, like 20-24", to get the velocity it needs to really shine.
Taking a normal 16" carbine and throwing a 24" .224 Valk upper on it might throw your rifle's balance all out of wack. A good bipod and some great long-range fundamentals go a long way in resolving these issues.
For a truly dedicated long-range shooter, you might want to look into a heavier buttstock like a Magpul PRS Gen 3 to help out.
Wrapping Up
.22 Valkyrie is a cartridge that didn't live up to its full potential, but still has a lot of room to grow and fully come into its own.
Ammo is very reasonable, even in dark times like these, and the long range ability of the cartridge is well proven.
I still love 224 Valkyrie, I also love 6.5 Grendel, and 6mm ARC. They each have strengths and weaknesses that make each a very fun round to play with.
Clearly, the best answer is to get at least one of each, but starting with .224 Valkyrie is a great way to get going!
[Bear Creek Arsenal will be releasing a limited run of .224 Valkyrie Complete Uppers, barrels, and 224 Valkyrie bolt carrier groups on 4/20/22! Grab yours soon before they're gone.]