June 25, 2021
32251 view(s)
M4s and AR-15s have become beloved by the military and civilians alike in recent years. This centers around their quality performance, budget-friendly options, low recoil and ease of use, and readily available ammo. The AR-15 design created in 1956 by Eugene Stoner has remained mostly unchanged until very recently! In just the last 20 years new calibers have been released on the AR-15 platform. Some of these brand-new options include the popular 300 Blackout, straight-walled 350 Legend, and the hunting and range friendly 6.5 Grendel. Recently, AR manufacturers have been pushing the limits of innovation on the AR-15's design by implementing improvements to the mil-spec rear charging handle of the M4 carbine with side charging and ambidextrous charging handle options. In this article we focus on the benefits side charging AR-15s offer and common questions about this charging style. You can find complete uppers, complete pistols, and complete rifles all featuring this beneficial new design!
Benefits of a Side Charging Upper
Ergonomics and Look
Similar to an AK-47, side charging ARs are typically right side charging and right side ejecting rifles. This means that unlike a typical AR-15 that requires the user to charge the firearm with the weapon away from his/her body, these side charging AR-15s can be charged directly from the shoulder. Many people love the look and feel of a side charging AR-15 or AR-10 as they mimic the AR-47 but offer the accuracy and versatility of the AR platform. After learning the new manual of arms, many users love the ergonomics of a side charger and find the larger handle easier to manipulate than a traditional charging handle.
Use with Optics
Scopes are fantastic optics for AR-15s or AR-10s, however, due to their length and mass, they can often get in the way of pulling back a traditional rear charging handle. Side charging rifles don't have this problem, as the bolt carrier group can be controlled from the side of the firearm, out of the way of any optic!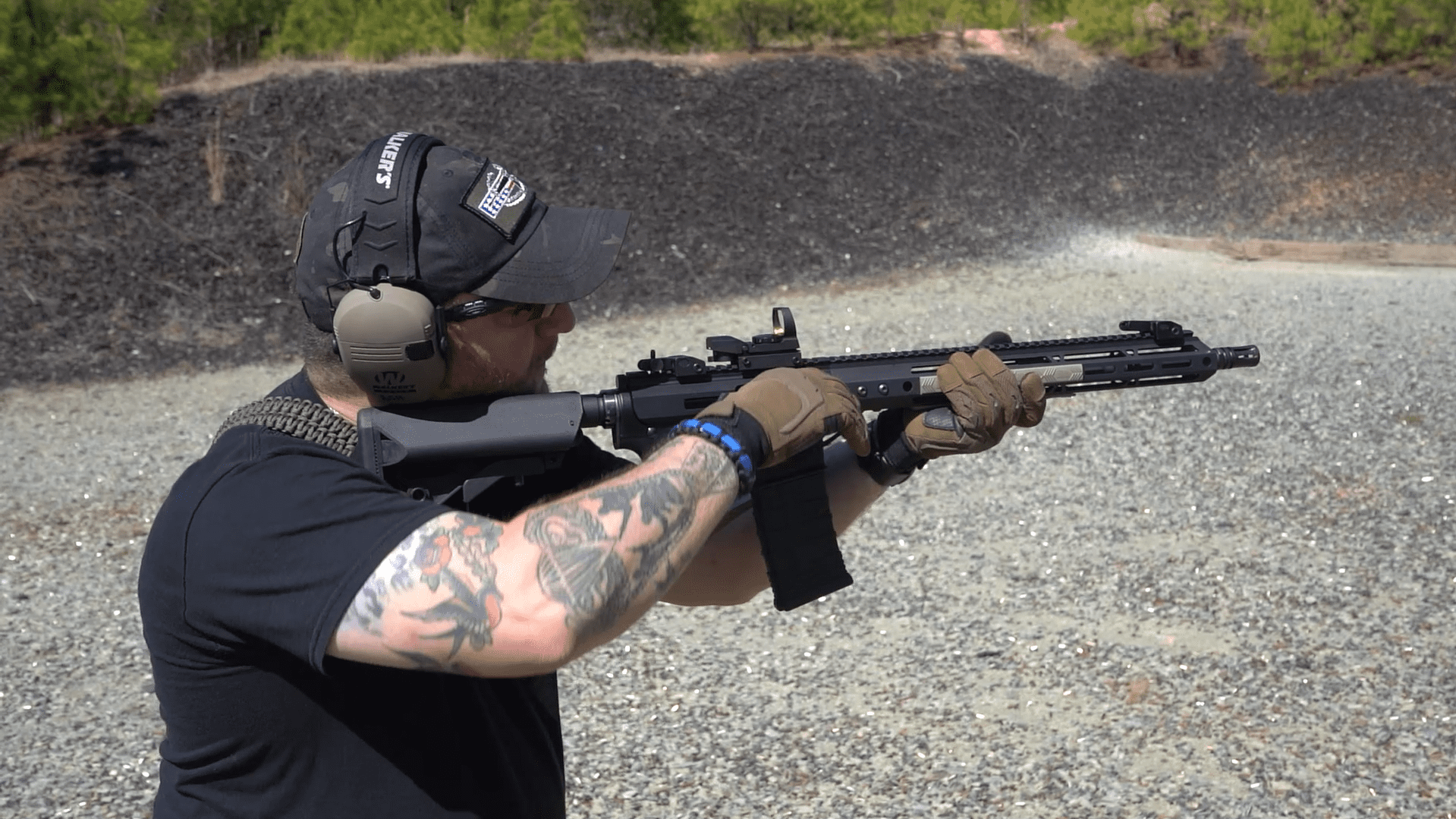 Correcting Malfunctions
Malfunctions can happen from time to time in any AR; thankfully, side charging uppers offer unique benefits when it comes to correcting malfunctions in your AR-15! Once again, unlike rear charging AR-15s, side chargers allow for easy manipulation of the BCG while the firearm is still being shouldered. This makes it easy to clear a malfunction quickly and return to firing as soon as possible. For more information on how to clear AR-15 malfunctions watch our YouTube video!
What are Side Charging AR-15s Made out of?
Bear Creek Arsenal side charging uppers and rifles are manufactured from 7075 aircraft-grade aluminum billets. This means that unlike traditional forged upper receivers, which are stamped into shape in a press, billet upper receivers are cut into shape from a solid piece of aluminum. This allows us full control of the design, look, and feel of the firearm. To increase the strength of billet upper receivers the material is thicker and utilizes more material than their forged counterparts. This makes them extremely strong and durable and only adds a very minimal amount of weight (0.15 oz) to the receiver. See our YouTube video about the weight of each type of receiver for more information.
How do I Remove a Side Charging AR-15

BCG?
Removing a side charging BCG has a few additional steps as compared to the traditional rear charging BCG, but it is still very easily done! Take the upper off of the lower by removing the take-down pins, then unscrew the rear receiver plug. Now use a T25 Torx bit or Allen key to unscrew the side charging handle from the BCG. Finally, pull out the bolt carrier group from the receiver.
To reassemble the side charging upper, simply insert the dowel pin of the side charging handle into the bolt carrier, screw in the handle, and screw in the rear receiver plug until it is tight with the flat side of the screw pointing down.
You will notice that the Gen-2 side charging handle from Bear Creek Arsenal, has two points of contact in the BCG. One in the screw that attaches the handle to the BCG, and the other is a dowel pin that locks in the bolt carrier to prevent rotation and loosening of the screw. Bear Creek Arsenal side charging receivers are reciprocating as the handle is attached to, and moves with, the BCG.
What is The Screw in the Back of My Side Charging Upper?
This is called the rear receiver plug. The rear receiver plug and O-ring is designed to prevent gas from escaping from the receiver and hitting the user in the face. This screw is even more effective than a traditional, rear charging AR-15 at keeping gas from contact with the user, especially when shooting suppressed! The screw has a flat side which is positioned down towards the lower when fully assembled. The receiver plug does not need to be completely tight, rather just as tight as allowed with the flat edge down.
Are Side Charging AR-15s Compatible with Other Mil-spec Components?
Side charging AR-15 complete uppers are compatible with any mil-spec AR-15 lower. Likewise, side charging AR-10 uppers are compatible with AR-10 DPMS Gen-1 Low Profile lowers. Side Charging BCGs can also be used in a rear charging upper once the side charging handle is removed, however, the ejection port cover will not close because there is no indent in the side charging BCG to allow for this. Rear charging bolt carrier groups will fit in a side charging receiver but have no way to be pulled back to load the first round.
As you might have noticed, side charging AR-10s and AR-15s do not feature a forward assist; this is because it is not needed as the handle acts as a forward assist if necessary.
Final Shots
Side Charging AR15s and Side Charging AR10s are fantastic innovations to the semi-automatic firearm world. Not only are they easier to use with optics and clear malfunctions, but they also have a unique look and feel to them that many rifle users fall in love with! Here at Bear Creek Arsenal we offer a huge variety of side charging ARs, including both AR-15 and AR-10 rifles, pistols, and complete upper assemblies.
Comment your favorite aspect of side charging uppers or any questions you still have about AR-style rifles. Make sure to check out our YouTube channel as well, which has tons of helpful guides, product demonstrations, and comparisons to help you find, shoot, and maintain your dream AR-15.