July 12, 2022
5756 view(s)
One of the least common calibers to see in an AR-15 platform, but tons of fun and fairly cheap to shoot -- the .17 HMR started life as a wildcat but has now become a mainstream cartridge for varmint hunters across the nation!
What is so good about it, why you should get one, and what you can do with it coming up!
Rimfire Vs. Centerfire
Just to clear things up before we get in the weeds -- rimfire and centerfire ammo are fundamentally different. Shocking, I know.
The names reference how the cartridge is primed. Centerfire uses a primer in the base of the cartridge set in the middle. Rimfire has a rim around the base of the cartridge that is filled with a tiny amount of pressure-sensitive priming compound.
Generally speaking, centerfire cartridges are more powerful and more reliable. Rimfire is older, smaller, and great for super small cartridges like .22 short, .22 LR, .17 HMR, and a few others.
History Behind .17 HMR
Another cartridge that owes its birth to the mad lads that are the wildcatters of the world, the idea for .17 HMR was born out of the desire of the common people to replicate a long dead cartridge.
Back in the 1970s for a period of only 4 years, Remington offered the 5mm Remington Rimfire Magnum. As the name suggests, it was a 5mm bullet and had some impressive muzzle velocity sending a 38gr bullet downrange at 2,100 FPS. This super flat shooting varmint round was cool, but unpopular. Remington stopped offering the chambering in 1974 and stopped making ammo for it in 1982. However, Aguila actually brought it back in 2008.
All of that said, in the late '90s and early 2000s interest and desire for a fast, flat-shooting rimfire was renewed.
Using the popular .22 Winchester Magnum as a parent cartridge, wildcatters necked it down to .17 cal and loaded it with fancy 4.5mm bullets that were commonly available.
Hornady got in on the action and in 2002 introduced the .17 Hornady Magnum Rimfire.
Practical Applications
There are really only two major goals with .17 HMR making it a fairly niche cartridge, but it does its job well within that niche.
Hunting/Varmint Control
Call it harvesting, killing, controlling, or hunting -- the result is small critters that need to be very dead. And I do mean small, like real small. Groundhogs and prairie dogs are the most common, but other varmints might include squirrels, rats, and even something a little larger like raccoons.
All of these are firmly in the wheelhouse of 17 HMR.
While for something larger like raccoon you would want to be fairly close, like sub-50 yards, things like groundhogs and squirrels can be taken at 200 yards or more.
The high velocity and low recoil make sniping these pests a reasonably easy affair.
While .17 HMR is sometimes used for animals as large as coyotes, I personally don't believe it has the punch to reliably drop coyotes even when shot at close ranges. It's better than nothing, but it wouldn't be my preference at all.
Raccoon and smaller is more where .17 HMR lives.
Plinking
While not remotely as cheap as .22 LR, .17 HMR is still a lot more inexpensive than most centerfire cartridges. If you're looking to plink for less but want to extend your range a bit, .17 HMR is a reasonable choice.
Ballistics
Keep in mind that .17 HMR is still a rimfire cartridge and is only slinging bullets between 15 and 20 grains.
For what it is, it packs a lot of punch. But compared to almost any centerfire rifle cartridge it's going to look weak.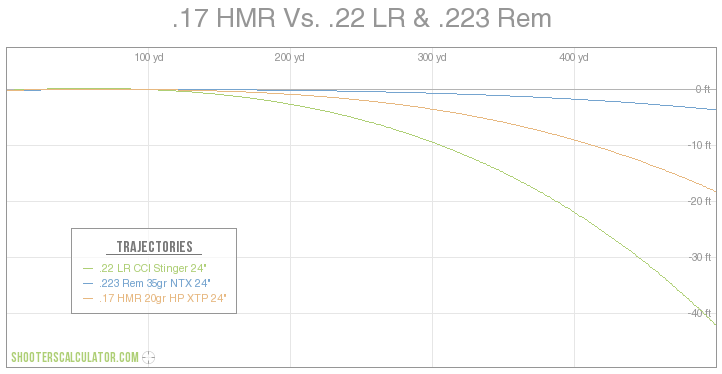 My favorite loading is the Hornady 20gr HP XTP. From a 24" barrel it moves at around 2,375 FPS, has about 10 inches of drop at 200 yards, and is supersonic to around 230 yards. More than enough to drop prairie dogs in their tracks at that range.
Compare that to a .22 LR varmint round like CCI Singers that send a 32gr bullet downrange at 1,525 FPS -- the Singer goes sub-sonic at around 80 yards and has 30+ inches of drop at 200 yards. While it has about the same energy as the .17 HMR 20gr HP XTP load at 200 yards, it has a lot more drop and windage to contend with.
But of course, if we look at a real centerfire rifle cartridge like a Hornady 35gr NTX in .223 Rem, both of the rimfires get blown out of the water. Moving at screaming 4,000 FPS the 35gr NTX has only 7 inches of drop at 300-yards and is effective on prairie dogs at almost 1,000 yards -- if you can hit them.
Still, while .22 LR might be a 50-100 yard cartridge, .17 HMR is firmly a 200-250 yard cartridge. That's a big boost in range and power if you're still looking for the least amount of recoil and low cost of a rimfire.
Build Or Buy
.17 HMR is a pretty niche caliber for the AR-15, but 17 hmr uppers and magazines are fairly easy to find from a few brands.
Personally, I don't recommend building an upper since the parts are often proprietary and rarely play well with others.
Get yourself a complete upper and use the magazines the manufacturer recommends.
If you're dead set on building, you'll need a new BCG and new barrel at a minimum depending on the exact system you choose.
Wrapping Up
Sure, .17 HMR is a bit of a niche cartridge that many of us haven't given a second thought to. But if you have the chance to do some varminting -- .17 HMR is mad fun. This is a great cartridge for leaning on, cleaning the garden of pests, or snapping off the back deck (if it's legal in your area!).
If .22 LR doesn't give enough pop for you, give .17 HMR a try!